Essential oils are based on the search for active ingredients and their synergy for an action that respects the body's vital currents. Pronutri Laboratories have studied their synergistic actions in order to reinforce the action of the active ingredients. The studies carried out on these active ingredients consider only the action on the target sought.
A new range of essential oils born from an innovative concept of essential oil complexes, 100% natural, without GMOs, heavy metals or pesticides. The effectiveness of these complexes on the target is based on the search for the synergy of the selected oils, without interactions with other systems. This synergy reinforces their actions without inducing disturbances on other physiological functions and ensures perfect biocompatibility.
Rhinolfa, Protective Elixir
Pronutri has developed a first complex of eight 100% natural essential oils to strengthen the body's defenses against infections and viruses of the respiratory system. Working in synergy makes it possible to have a biocompatible solution. The synergy of essential oils composing the Rhinolfa product are chosen for their virucidal and bactericidal properties, and help stimulate the immunity of the respiratory system.
Complex of Eight Essential Oils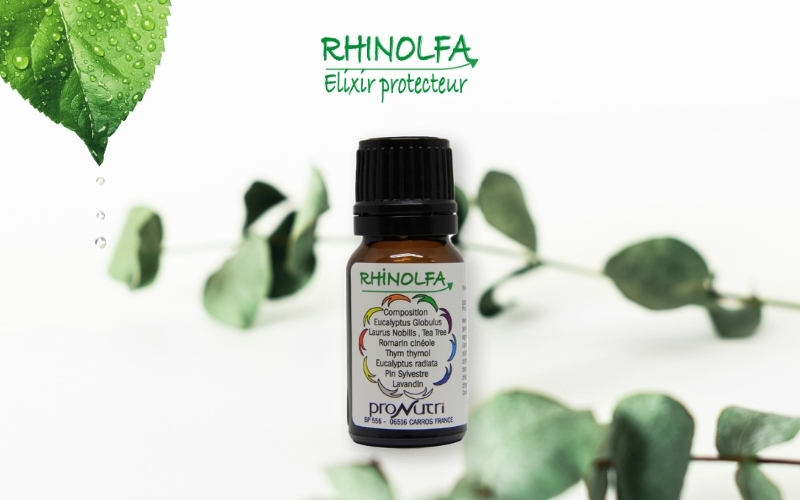 – Eucalyptus Globulus: Antibacterial, Antiviral, Airborne Antiseptic
– Eucalyptus Radiata: Immunostimulant, Antibacterial, Antiviral, Expectorant
– Laurel Noble: Antibacterial, Antiviral, Mucolytic, Analgesic
– Lavandin super: Analgesic and anti-inflammatory, anti-infectious
– Scots pine : Antiseptic, Respiratory, Immunostimulant
– Tea Tree: Broad-spectrum antibacterial, immunostimulant, anti-inflammatory.
– Red Thyme: Antibacterial, mucolytic, expectorant
– Cineole Rosemary: Powerful Antibacterial, Mucolytic, Antifungal
Stimulant To learn more about the product Rhinolfa, and/or to purchase it: click here.