Pronutri Laboratories organized a press conference to present an innovation in the reduction of pain due to endometriosis to generalist and scientific journals and health professionals, in collaboration with the local newspaper Nice-Matin, on Friday 05 March, 11am.
An innovation in the reduction of pain due to endometriosis
The innovative, clinically proven solution reduces pain due to endometriosis in 91.3% of women.
Endometriosis: a generally recurrent pathology that affects approximately 10% of women worldwide and nearly 2 million in France.
Caused by the abnormal presence of endometrial cells outside the uterine cavity, endometriosis causes chronic pain during ovulation or menstruation in women suffering from this pathology. Pain is the first symptom and disabling impact that affects 50 to 91% of women affected by endometriosis. The digital conference focused on a clinical study showing 66.1% reduction in pain in 91.3% of women thanks to a specific complex developed, Nutri Endo.
The clinical study was published in the journal Minerva Ginecologica in October 2020 and in the journal Genesis in June/July 2020, demonstrating the reduction in pain in women with AFSr* II, III and IV stage endometriosis within 4 months.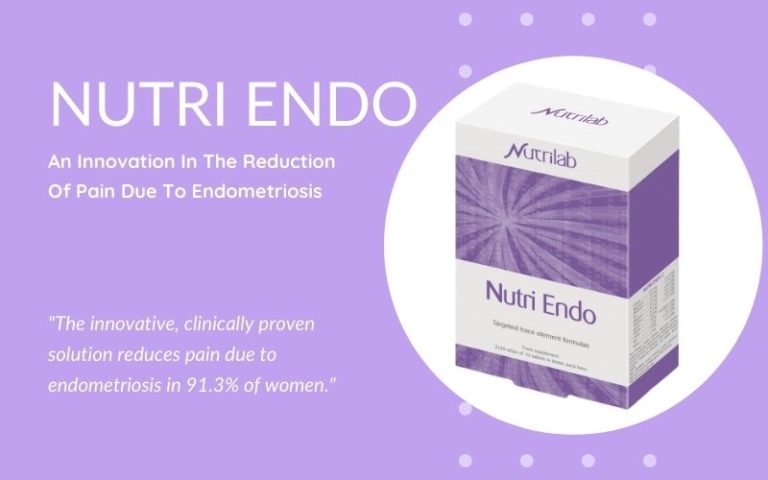 Nutri Endo for Women of All Ages
Nutri Endo is a specific complex of oligo-metals assembled in sequences. It is free of undesirable effects. Its recommended duration of use is 2 months for early stage (I and II) or prevention and 4 months or more for stages III and IV and long established endometriosis.
Nutri Endo can be taken at any time of the female cycle and also during the process of Medically Assisted Reproduction (MAP). Nutri Endo is distributed and marketed by Nutrilab Laboratories in France and internationally, particularly in Europe, the United States and Asia from Singapore, and also on the official website of Nutrilab Laboratories.
Current discoveries, particularly in the field of endometriosis, represent the culmination of more than 30 years of research and expertise in micro-nutrition and more specifically in the molecular information and applications of Nutripuncture ®.
*AFSr : American Fertility Society classification revised